image courtesy of Midwest Glacial Lakes Partnership
The North American Lake Management Society (NALMS) recommends iterative steps when managing lakes and watersheds. Small efforts cost less than major improvements and are less likely to negatively impact non-targeted organisms and other aspects of the lake. Consistent monitoring allows for a proactive approach and address issues before they become big problems.
Proactive:
Creating or controlling a situation by causing something to happen rather than responding to it after it has happened.
Multiple Ways We Are Monitoring the Lake: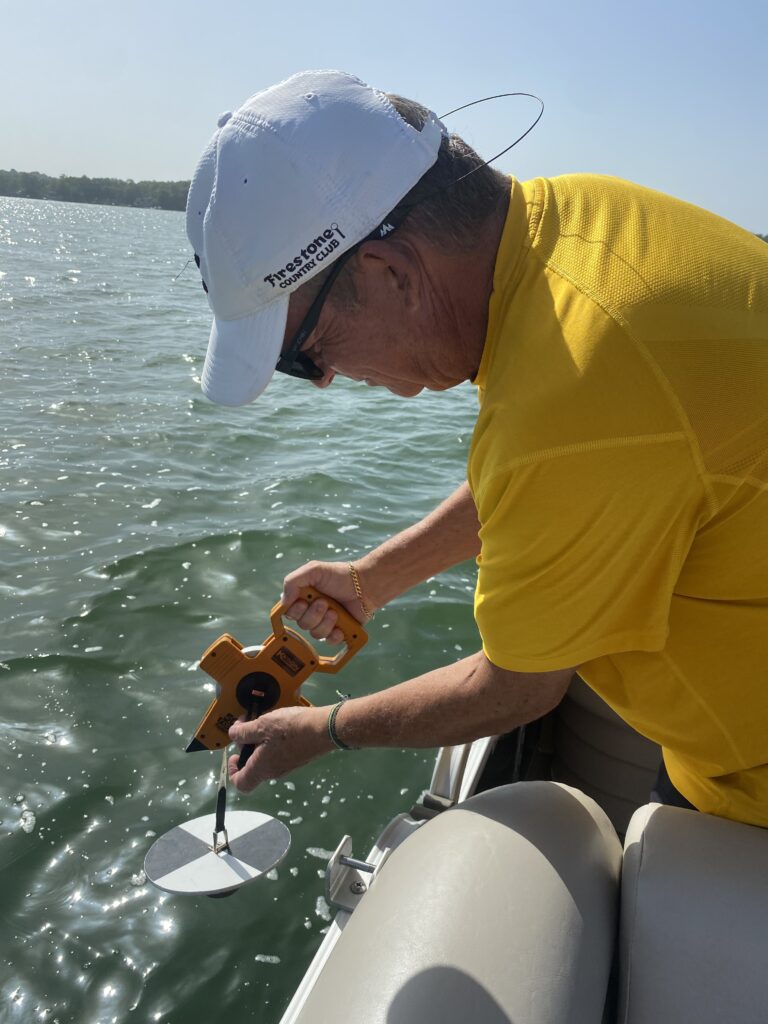 Clean Lakes Program
Stream Team – New in 2021
Aquatic Vegetation Monitoring – New in 2022
Phosphorous Monitoring – New in 2023
Clean Lakes Program
Lake Maxinkuckee volunteers have been submitting samples to the Indiana Clean Lakes Program for decades. This is a federal grant program which was established in 1972 to provide financial and technical assistance to States in restoring public lakes. Read can read more here.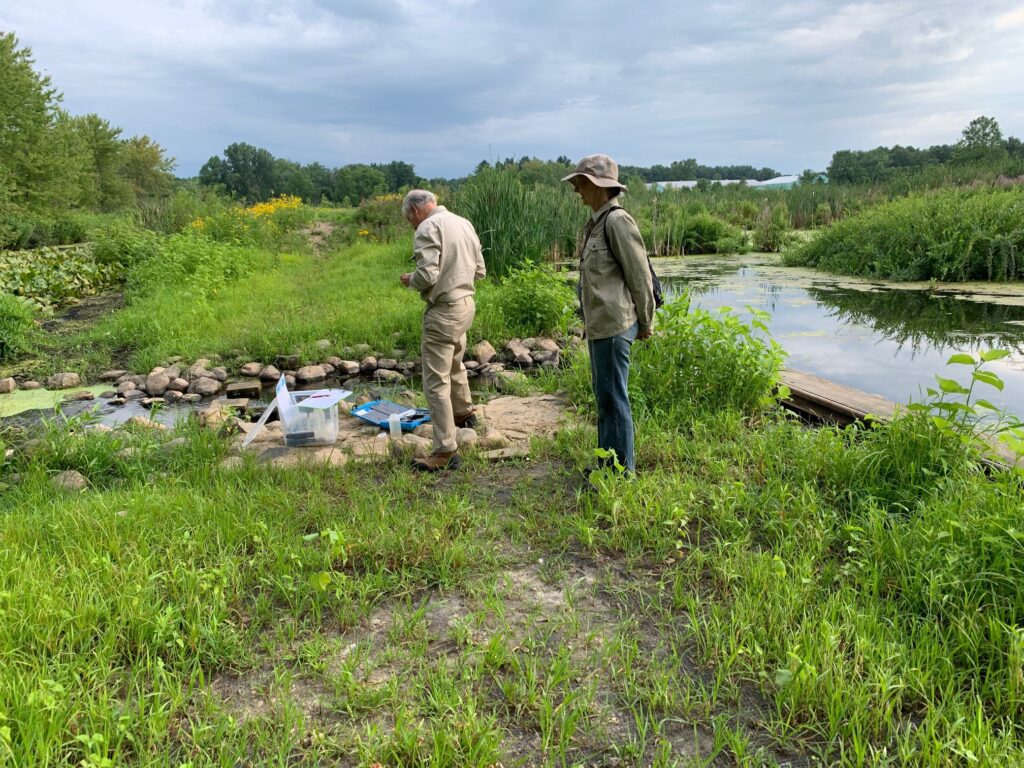 Stream Team
A group of volunteers has been collecting monthly stream samples at five different sites since June 2021. Data is summarized at the end of each year so we can more easily analyze trends. You can read more here.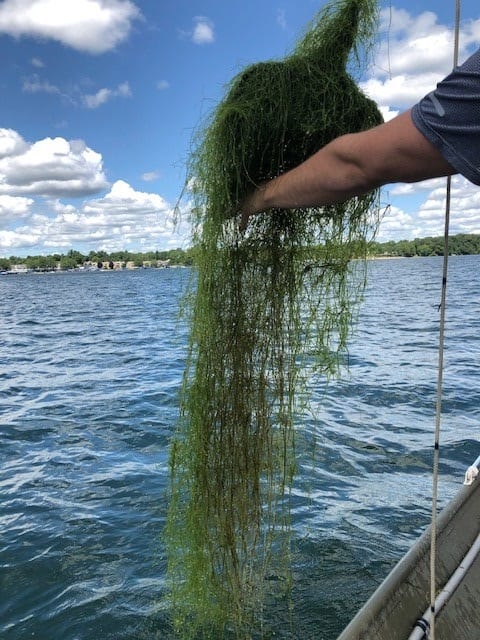 Aquatic Vegetation Monitoring
An updated Aquatic Vegetation Management Plan was created in 2022, with continued monitoring as part of the plan. Eurasian Watermilfoil (EWM) was sprayed throughout the lake in 2022. The 2023 survey report found only sparse and sporadic EWM, requiring no herbicide treatment this year. We will continue to monitor and conservatively use herbicide to keep invasive species under control. You can read more here.
Phosphorous Monitoring
This year we added an additional layer of water sampling to our data collection. In the months of May, June, July and August, while collecting samples for the Indiana Clean Lakes program, we also collected samples to be sent to a private lab for phosphorous analysis.
What is So Special about Phosphorous?
One of the most important nutrient cycles in a lake is the phosphorus cycle. This is due to its role in driving the ability of plants and algae to convert energy and inorganic nutrients into organic matter for the rest of the food web. High levels of phosphorous in a water sample may signal potential problems with algal blooms so it is important to keep an eye on it.
Total Phosphorous
Total phosphorus (TP) is the measure of all phosphorus in a sample. It includes phosphorus that is readily available for algae and plant growth and phosphorus that has potential to become available.
The total phosphorus concentration in an aquatic system is often correlated with the trophic state of water. There are also other factors that determine the trophic state of a lake and you can read more here. Lake Maxinkuckee has been classified as a mesotrophic lake for many years and the 2023 TP results corroborate that.
Mesotrophic
Lakes with an intermediate level of productivity are called mesotrophic lakes.
These lakes have medium-level nutrients and are usually clear water with submerged aquatic plants.
2023 Total Phosphorous Results
| | | | | |
| --- | --- | --- | --- | --- |
| | May | June | July | August |
| Total Phosphorous | 23 | 17 | 12 | 8 |
<12 ppb is considered oligotrophic and is often characterized by clear water with little plant or algae growth
12-24 ppb is considered mesotrophic and is characterized by moderately clear water with some algae
25-96 ppb is considered eutrophic and is characterized by productive waters with algae and plants
>96 ppb is considered hypereutrophic (highly productive) and is characterized by frequent algal blooms
These monitoring methods are all tools to help in the decisions to Keep Our Lake Healthy.
As George Raveling, former college basketball player and coach stated:
"The best decision makers are always armed with the best information and data."
---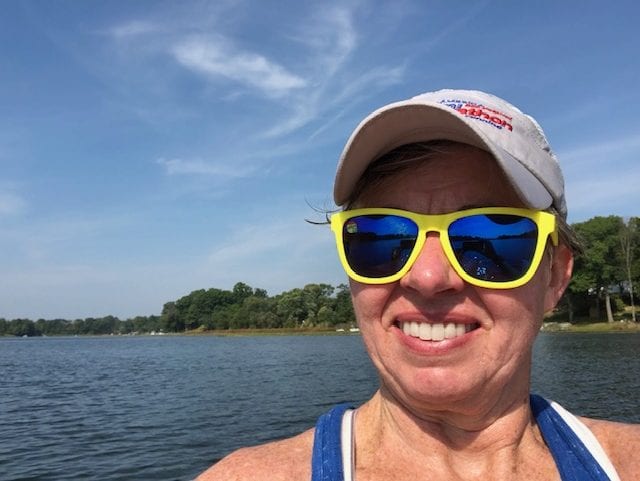 Hi, I'm Debbie Palmer.  I received a BS in Horticulture from Purdue University.  Here at LMEF, I am responsible for outreach presentations, monitoring the lake and it's wetlands, project manager for restoration and research projects, and act as a community resource for all things related to the well-being of Lake Maxinkuckee and its surrounding watershed.  I completed Indiana Watershed Leadership Academy, volunteer with the Indiana Clean Lakes Program, Hoosier River Watch and Marshall County Lakes and Waters and serve as a Board Member for Indiana Lakes Management Society.