"It is a capital mistake to theorize before one has data."

Sherlock Holmes
A Study in Scarlet by Arthur Conan Doyle

According to my internet search, there are anywhere from four to eight steps in any decision-making process.  However, all agree, when facing challenging problems and important decisions, it is critical that leaders examine all of their options carefully.
One approach divides the process into five steps:
Step #1: Identify the problem.
Step #2: Seek information.
Step #3: Evaluate the alternatives.
Step #4: Implement the decision.
Step #5: Monitor the situation, gather data about the decision's impact and make changes if necessary.
Step #1 – Our mission statement identifies the issue we are trying to address pretty clearly:
Working toward the preservation of an ecologically sound Lake Maxinkuckee
and its surrounding watershed.  
Step #2 – Seek Information
Seeking information is an ongoing process, and we do it through a variety of channels, both volunteer and professional. Our current methods of seeking information include:
Stream Team Nutrient Monitoring
Kline Wetland Research Study
Hot Spots Study
Indiana Clean Lakes Lake Monitoring
Aquatic Vegetation Survey
Cyanobacteria Monitoring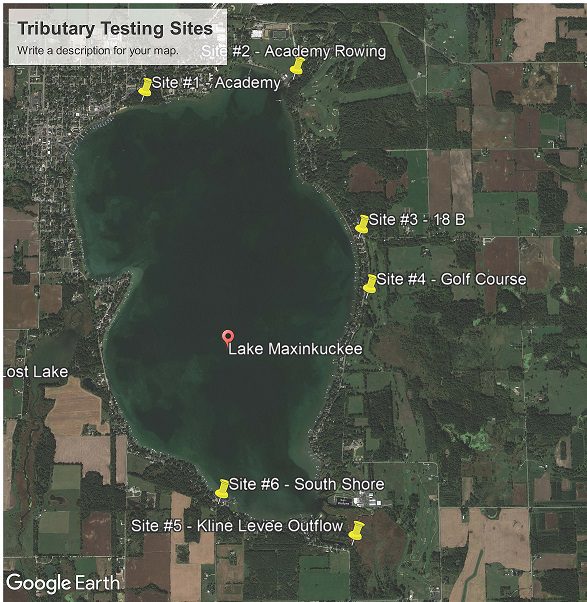 Stream Team Nutrient Monitoring
A group of volunteers has been collecting stream samples monthly at five different sites since June 2021. Per this map, we initially identified six sites that were historically tested (there was no flow at Site #1 so it was omitted). We were able to purchase equipment with funds from Marshall County Community Foundation Vonnegut Fund, which I wrote about here. There was also a nice write up about our program in MCCF 2021 Annual Report as well.
Stream Team Volunteers:
Ed Brown, Ginny Hahn, Scott Holaday, Mad Slykas,
Karl Swedlund & Gene Tardy
Kline Wetland Research Study
LMEF contracted with EcoSystems Connections in 2021 to do a year long, in depth study of the water flowing into and out of the Kline Wetland. The purpose of this study is to determine how well the Kline Wetland is functioning. The final water samples were collected in March of 2022 and we received the report in December 2022. We have met with the EcoSystems team to discuss their findings and what it means for the lake. We are working on a one-page, easy to read summary but if you are interested, the 144 page report is available.
Hot Spots Study
LMEF contracted with Cardno, now Stantec, in 2022 to conduct a watershed survey. The purpose of this project is to look at land use practices that are contributing to sediment and nutrient loading into the lake. Cardno looked at aerial maps, then over the course of two days walked along the tributaries before conducting a driving tour of the entire watershed. I tagged along the tributary walks and the driving tour and gained a better understanding of topography and land use practices around the lake. They are in the process of writing a report to identify specific projects that would have a significant impact on improving the water quality of the lake.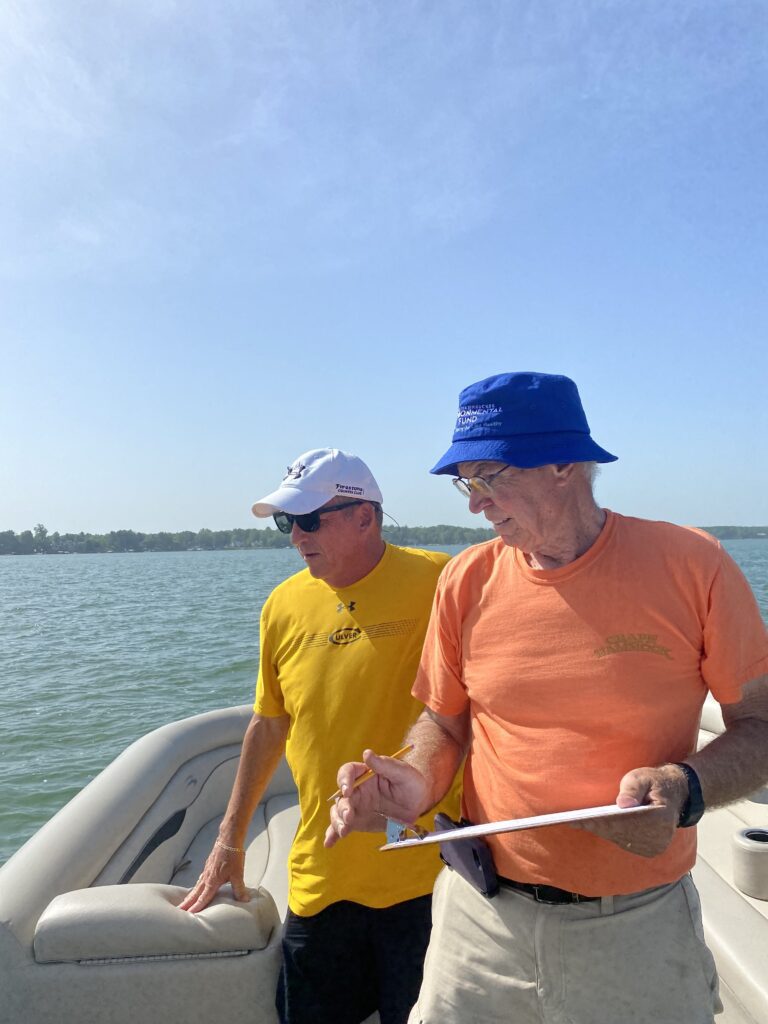 Indiana Clean Lakes Program
Lake Maxinkuckee has been fortunate to have volunteers collecting water samples for the Indiana Clean Lakes Program for decades. Dan Baughman and John Spensley are the current volunteers. They go out four times per summer, May June July and August to take dissolved oxygen and secchi disk readings and collect water samples, that are then sent to the IU Limnology lab in Bloomington for analysis. The IU lab sends an annual report based on those water samples. You can read about it here, here and here.
Aquatic Vegetation Survey
Starry Stonewort was discovered in the lake for the first time in 2020 and Aquatic Weed Control was consulted to help develop a management plan. You can read more about Starry Stonewort in Lake Maxinkuckee here. What we found out was that we have a bigger issue with Eurasian watermilfoil, which you can read about here. Both of these plants are aggressive invasive species and other lakes are having a very difficult time keeping them under control. We are working with Aquatic Weed Control on a regular basis to monitor and map the weed beds so we have a better understanding of what is happening and can respond quickly and conservatively, before the invasive plants crowd out the native ones. We have also consulted with Indiana DNR on this issue.
Cyanobacteria Monitoring
Everyone in the industry agrees harmful algal blooms, or HABs, are becoming more common in our part of the country. The problem is there are no inexpensive algal monitoring procedures for lake organizations to implement. I found that out when Lake Maxinkuckee experienced a toxic bloom in 2021. Fortunately, MoonTree Studios is piloting an algal monitoring program this summer and LMEF will be participating.
Data Driven Decisions
These forms of data collection help the LMEF board move through the rest of the steps in making decisions that further our mission, now and for future generations.
This holistic approach is made possible through your generous donations. 
Thank you.
---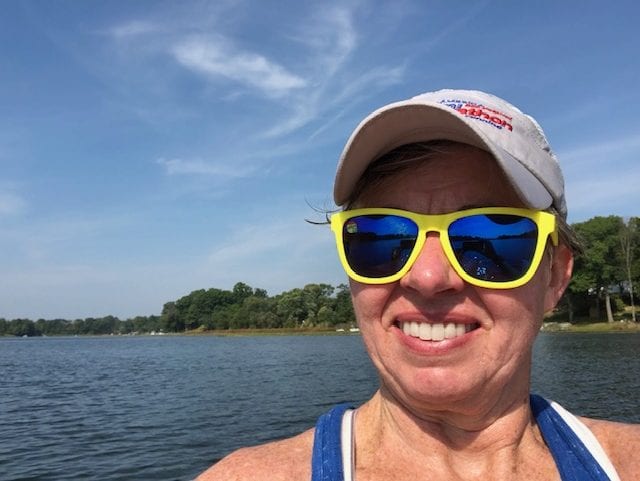 Hi, I'm Debbie Palmer.  I received a BS in Horticulture from Purdue University.  Here at LMEF, I am responsible for outreach presentations, monitoring the lake and it's wetlands, project manager for restoration and research projects, and act as a community resource for all things related to the well-being of Lake Maxinkuckee and its surrounding watershed.  I completed Indiana Watershed Leadership Academy, volunteer with the Indiana Clean Lakes Program, Hoosier River Watch and Marshall County Lakes and Waters and serve as a Board Member for Indiana Lakes Management Society.