I have lived in Plymouth for thirty-five years and experienced Culver on day trips, bringing my kids to the beach or eating at the various restaurants, but it's different now that I'm working here.  I am so intrigued by the families who discovered the magic of the area over a hundred years ago, built cottages and returned year after year.  I was curious as to which cottage had been in the same family the longest and was told I should talk to the family at Portledge on East Shore Drive as they are on the 6th generation!  Unfortunately, the family had already left for the season by the time we connected, but I have been having an email "conversation" with Katherine Moseley, a grandchild of the original builder and 3rd generation co-owner.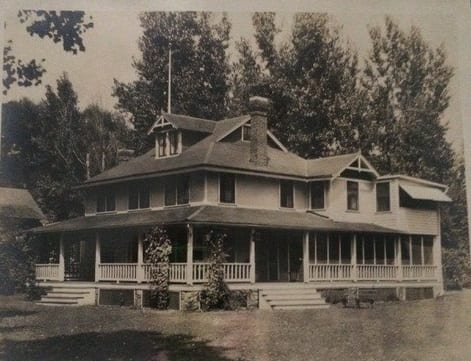 Construction on Portledge, named for the ancestral Coffin family home in England*, began in 1905. The family of Charles Emmet Coffin spent their first summer at their new cottage in 1907. An excerpt from the East Shore Historic District describes Portledge as:
"a two and a half story, wood frame, composite house. The house resembles a cube, with various extensions and additions to the sides and rear. The roof is hipped, with triangular dormers on the sides. A one story, screened-in porch extends across the main façade and around the south side. Siding is clapboard. Windows are single and paired, and are wood with double-hung sash."
That description does not do it justice. I would describe Portledge as:
"a two and a half story, wood frame, summer cottage overflowing with memories. The house started as a cube, but in order to accommodate the expanding generations of Coffin's spending time together every summer, several additions were necessary. A one story, screened-in porch allows for magical summer evenings enjoying the sounds and smells of the lake."
You know Lake Maxinkuckee is special to Katherine, as she lives in New York and has only missed two summers at the lake; the summer she was born and the summer her oldest daughter was born. When her parents were alive, Katherine would bring her family for a month, her sister from Arkansas would bring her family for a different month and her brother from Indianapolis would often bring his family and stay at his mother-in-law's cottage, also on East Shore Drive. As she explained "…generations of cousins have grown up together at the lake. This summer was a sad exception because of COVID." Unfortunately, I have heard that sentiment expressed by so many this year. I know everyone is hopeful that next summer will return to normal.
"Maybe the ultimate favorite is still ahead!"
I asked Katherine if she would share her favorite memory of Lake Maxinkuckee. What a testament that her answer started with "That is an impossible question for me to answer. There are so many…" and ended with "Maybe the ultimate favorite is still ahead!" I wish I were talking to her in person so I could ask more about hiding on the roof with a bag of Fritos and a Coke reading almost every Nancy Drew mystery, lying on the bow of an outboard motorboat and going full speed around the lake, hunting turtles and more. Katherine paints a blissful picture of childhood summers spent at the lake. What a legacy to be able to share that with subsequent generations.
Historic pictures of the Katherine's family can be found at Maxinkuckee History Pasttracker.
*Too funny not to include!

"The estate in England was for some time also a hotel. My sister and her family visited it once many years ago. Apparently, many Coffin descendants did the same and, as she checked in at the hotel, she said that it was apparent that the staff did not find her connection to Portledge particularly interesting or unusual! There are many branches of Coffins in the States who can trace back their ancestry to this estate."
I love writing these stories and I hope people enjoy reading them. If you want to share your story, or know someone who has a good story to tell, please me an email. I would gladly write something about every single person who is connected to our beautiful lake.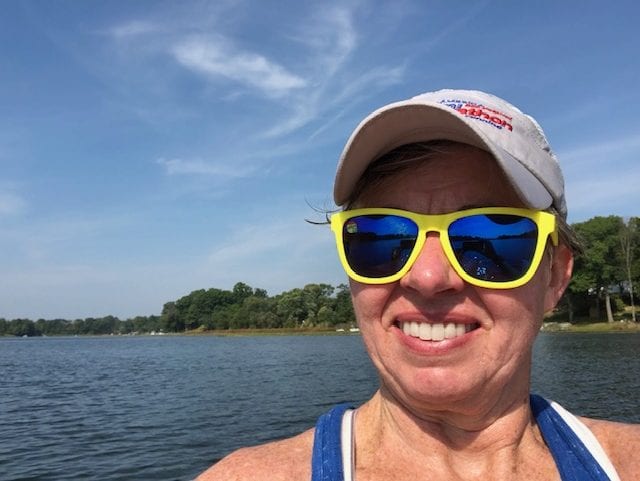 Hi, I'm Debbie Palmer.  I received a BS in Horticulture from Purdue University.  Here at LMEF, I am responsible for outreach presentations, monitoring the lake and it's wetlands, project manager for restoration and research projects, and act as a community resource for all things related to the well-being of Lake Maxinkuckee and its surrounding watershed.  I completed Indiana Watershed Leadership Academy, volunteer with the Indiana Clean Lakes Program, Hoosier River Watch and Marshall County Lakes and Waters and serve as a Board Member for Indiana Lakes Management Society.